Free NLP Patterns and Techniques
NLP Techniques and Patterns: Stepping Stones to a New Reality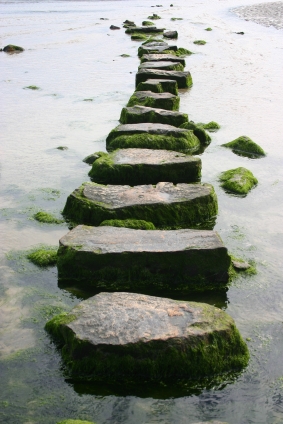 When we use NLP Techniques, otherwise known as NLP Patterns, or NLP Strategies it is because something is not working in our lives, or not working as well as we would like. We might find ourselves at some kind of impasse, or stuck situation. We want something else, or something better. Then we know to set out to build a bridge from old thoughts, states, feelings, beliefs, or behaviors to new ones. In NLP, we literally build a bridge in our neurology from where we are, to the place we want to be, or from the person we are to the person we want to be come. In NLP jargon, we say that we move from a Present State to a Desired State, or PS -> DS.
It is the PS -> DS direction that is at the heart of every NLP technique (of which there are at least hundreds). Never forget this formula!
As human beings, we are learning and adapting to changes all the time... We do so very well, in fact. Yet there are all times when we all feel stuck. We need new resources, a new view, a new outlook, a new idea, a token, more information, or advice, motivation or skills, etc. to move us along.
NLP techniques and patterns are simply documented and tested strategies that move us and our human neurology along in a stepwise manner, and in a positive direction.
To use an Engineering metaphor, no two bridges are exactly alike, but they all serve the same purpose. Good engineering requires a rigorous study of the terrain, and the load that the bridge must ultimately carry. Real human change engineering is also required when building neurological bridges that will carry the load they must in the future that we want to create.
The NLP bridges we build are all in the mind... which literally updates our neurology or neural networks, as old habits and ways of thinking and feeling are diminished, in favor of new neurological patterns. These new patterns are then reinforced or strengthened until they become habituated, or learned.
How can I learn more about NLP Techniques?
Fortunately, the NLP founders and active NLPers ever since have left a wake of NLP techniques as templates that have stood the test of time, are available online and in books, and new patterns are being modeled all the time by creative NLPers. I highly recommend Shlomo Vaknin's revised edition of The BIG Book of NLP. This book has most of the patterns ever invented and documented, and Shlomo does a great job explaining not only that they work, but how and why they work.
Everyone who lives a number of years, can learn new things, and speak a language has probably used some NLP strategy every day of their lives. And how do you know? You know that you are using NLP when what you are doing is working! That's the one criteria that permeates every NLP strategy. In NLP, we say that if something is not working, try something else!
You can buy the book above, or you can get some of those techniques here at Grass Roots NLP. We are always adding NLP techniques, patterns and strategies that you can freely use. Credit will be given whenever possible to those who have modeled these patterns originally, but we take liberty, (and so can you) of changing those patterns as needed to get the best results.
Where Can I Safely Practice NLP Patterns?
What Grass Roots NLP is all about is building a network of NLP Practitioners, who wish to improve their NLP skills in their own lives. One often forgotten aspect of NLP Practitioner is the practice that is involved. By consciously practicing strategies that work, these new programs can become unconscious and very efficient over time. We also try to make NLP practice as fun and useful as possible, because when it is enjoyable, practice does not feel like work. This is why children learn faster than adults. They do not know that learning is work, and so they do it naturally and unconsciously.
As you explore the NLP techniques in Shlomo's book, or on this site. Please feel as free as possible to comment on the patterns as you read and use them. We want to know how they work in your own practice!
Foundation NLP Patterns
Every bridge needs a strong foundation, and in building bridges to a better future through NLP we need to have a strong foundation of basic NLP patterns.
These NLP patterns are the foundation upon which the rest of the bridge will be built. You will see, hear, and use these patterns over, and over, and over, and over, and over again as you practice more advanced NLP patterns. These are the NLP patterns that touch neurological bedrock, so to speak. Learn these first, and learn them well. There is no cutting corners.
Wholeness NLP Patterns
NLP Techniques: Keeping It Together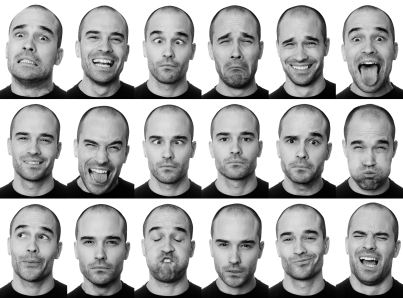 This section is dedicated to NLP Techniques and Patterns for helping us become more congruent and whole.
Not only do we sometimes have disagreements with others, but we also have disagreements with ourselves at certain times, and around certain topics, issues and desires. We can't seem to get any momentum on the things we really want. We spin our wheels in one place, unable to get ourselves unstuck.
Say hello to our "parts". Our parts are purely fictional, facets of our whole person, or more specifically, part of our emotional mind-body system. Still, "parts" are a useful metaphor that we easily understand, and commonly refer to in everyday conversations, such as:
There is a part of me that wants to tell him what I think, but another part of me that wants to avoid the issue.
There is a part of me that needs freedom, but another part of me that says wait for a better time!
I want to go to the gym, but that nagging voice on my head keeps reminding me of all the work at the office.
Sound familiar? Did you notice all the "buts"? If you count more than a few buts in your own language, it's probably time to look inside for the incongruencies, so they can be heard, respected, and brought to agreement.
NLP Has Some Good News...
The good news is that it is also easier to resolve conflicting parts with NLP Techniques than you might think. When all of our "parts" are recruited, enrolled in support of a common motivation, and not stepping all over each other, life suddenly becomes easy. The following NLP patterns will help you find congruence in yourself, and make your life more whole:
Self Identity NLP Patterns
NLP Techniques: Who am I?
Of all aspects of life that Neuro-Linguistic Programming can assist with, helping to define and enhance our self-concept is among the most powerful. I personally love working with identity, because self expression is one of the strongest urges our experience. A change in identity has profound changes in all other areas and activities of life.
The clearer we become about who we are as individuals, the more naturally we stand out and simultaneously integrate with others in the world.
In life, we can evolve through stages of dependence, through independence, and then achieve inter-dependence as Stephen Covey says. Mihaly Csikszentmihalyi says growth and one's identity (self) is supported by a purposeful life filled with flowful experiences. Flow creates increasingly complex people that are at once more individuated and more integrated. Joseph Campbell's work tells that human life can be a journey wherein the hero of the story (one's self) progresses from a naive dependent individual through a series of adventures which define him or her. The hero then becomes a master of two worlds: the inner world, and the outer world being shaped by the inner and outer worlds, and shaping it in turn. Socrates urged us all to "know thyself". This is the ideal life.
Yeah, but who am I?
When is the last time you have asked yourself a question like one of these:
Do I have any worth?
How important am I?
What talents, skills or abilities can I call my own?
Am I a lovable or attractive person?
Who do others say that I am?
Do I deserve to enjoy life?
Our identity is a fragile thing. It is constantly under threat of entropy and disintegration. One sure thing is that who we are is always changing. We are not the same person we were a day or a month or a year ago. We've changed in subtle or obvious ways. Sometimes who we are changes for the better, and sometimes for the worse. Thousands of books, movies and songs turn on this truth.
We often get stuck, or all twisted up, or sideways as our self concepts develop in less than optimal ways. Often we grow up to become what others want or expect us to be, wearing a mask as it were, and creating inner resistance. Other times, our concept of self is tamped down by critical voices coming from outside or inside ourselves. Abuse during childhood is a direct attack on the child's own self concept, which NLP techniques can help to redefine. At other times, we are simply not aware of our own possibilities, and NLP patterns can help here too.
How Can NLP Help?
This section presents proven NLP Techniques and Patterns that can help the individual define him or herself in new ways, strengthen and tune up one's already healthy self concept, or re-imprint a stunted childhood self-concept with a more empowered and resourceful one. Once we know who we are, why we are here, and have resources at our disposal to fully express ourselves, the details just seem to work themselves out, do they not? Let's get started...
NLP Techniques: Disidentification
The Idea:
Many times circumstances and emotions rule our lives precisely because we think that we are our circumstances and emotions. Outside of NLP, disidentification is a central theme to many spiritual and self-help movements. Eckhart Tolle points to identification with our problems as the source of all human suffering, and he may be right.
We are not our circumstances, nor are we our emotions. We are more than that. We are not our bodies, we are more than that too. The gist of this pattern is to reframe one's thinking, so that we come to know experientially that we have a body, but we are not our body. We have circumstances, but we are not those circumstances. We have problems, but we are not our problems. We have emotions, but we are not our emotions. We have thoughts and experiences, but we are not those thoughts or experiences. At the core, we are the consciousness having all of these things, and while these things can change, our core remains safely untouched.
Separating our core identity from these aspects of experience is powerful. It is the beginning of wisdom and the start of a new life for someone who is completely identified with his or her illness, relationship, job, wealth, or story. It is also very scary when identification with these things is very strong. It can feel like part of their identity is being severed at first, and then the realization comes that what was severed was not their identity at all, but only a figment… a hallucination. This being said, realize that this pattern will be met with resistance by most Westerners, and Americans in particular. The Western mentality holds a deep fear of separating one's identity from one's thoughts and feelings. At worst, it seems like a kind of death, and at the very least a challenge to separate one's identity from their thoughts, feelings, beliefs and story will make no sense at first.
The Pattern:

1. Test willingness to accept higher core identity

Do you accept the notion that you are more than your circumstances, health, wealth and relationships?
Do you accept the notion that you are more than your thoughts and feelings?
Do you accept the notion that you are more than your roles and duties?
Do you accept the notion that you are more than your body?
Are you willing to explore these ideas further to get in touch with that higher self?
Note: If they are not willing to go further, stop here. You may ask them to say more about their unwillingness, but do not continue with this pattern until they are ready to play.
2. Use linguistic patterns to start to dis-identify

How does it feel to you to say "I have a body, but I am not my body"?
How does it feel to you to say "I have a job, but I am not my job"?
How does it feel to you to say "I have money, but I am not my money"?
How does it feel to you to say "I have a religion, but I am not my religion"?
How does it feel to you to say "I have a _______, but I am not my _______"?
How could you express this in a way that seems better or more true to you?
3. Induce relaxation to strengthen the dis-identification
As you relax into a comfortable and safe state of mind… invite a higher self capable of thinking transcendentally about who you are to become activated.
Allow that higher self to step back, and safely and objectively evaluate the differences between your essential core, and other aspects of yourself that are separate from that essential core.
4. While in trance, separate self from circumstances and functions
As you fully come to realize those aspects of your former self as being only an extension, a function or a tool of your core self… notice how safe and valuable your core self can remain with or without them.
Notice how those extensions are not the same as who you are at the core.
Notice how from the higher self you can call upon those extensions, functions or tools as required.
5. Ask the brain to create a higher self
Have you gotten in touch with the you that is above and beyond your things, your thoughts, emotions and feelings? Some people call this the watcher, the listener, the observer or the master of what goes on in the body-mind.
Ask your brain to create a space for that higher self to be. Have you got it? Good.
6. Strengthen the higher self as a permanent and ongoing entity
Would you be willing to allow your higher self to freely observe your thoughts, feelings and attachments into the future?
As you contemplate this new kind of mindfulness into the future, are there any parts of it that make you uncomfortable?
Take some time to be with the higher mind as you go into the future. Let that integrate into your work life, home life, relationships, etc.
When to Use This Pattern:
Use this pattern with yourself, a loved one or a client whose emotional overreactions to stress, loss or feelings of doom are overwhelming. They may feel like they are dying in the face of changing circumstances, health, wealth or relationships. Using this pattern can help them to explore and come to know for themselves that bad things can happen to them, but their core self will remain safe and secure. This pattern is particularly useful in cases where fanatic behavior is driven by identification with some cause.
Warning: Only do this pattern with their consent! It is not OK to delve into matters of identity against their will. If you try to do so, you will be met with overt or covert resistance, as the ego is fighting for its very existence.
Credits:
Michael Hall, and others.